Adding Automated & Manual Vendor Accounts
Automated Accounts
HubDoc has developed automated connections with many vendors that uses login credentials to grab vendor documentation directly for the vendor websites.
Using the preparation spreadsheet add all auto accounts (notes in Column D) to HubDoc following these instructions. Once the accounts have been set up follow these steps for configuration.
Manual/Supplier Accounts
Setting up a new forwarding email
Before you can set-up filters to auto forward, you must first set up a new forwarding email address.
Login to Gmail
Click the Gear icon and select Settings

Next, go to the Forwarding and POP/IMAP section
Select Forwarding Address

Enter the forwarding address: ADD EMAIL FROM HUBDOC
After clicking ok, a pop up window will appear. Select Proceed
Next, you will need to get the confirmation email that was sent to the new forwarding email address. Once collected, enter the code and click Verify.

Now you are ready to create filters.
Setting up a filter
You will need to create a filter for each vendor and set-up the auto forwarding to the we just confirmed. 
First, search for the vendor in your email and locate the email that contains the bill or receipt.
Next, you need to decide on what set of data will be the most useful when setting up the filter. It's important that this data is consistent, so that future receipts/bills will continue to be filtered, and unique enough so that you don't accidentally forward an incorrect email. Here is a list of options (I suggest at least 1-2):

From address
Full Subject line (as long as it's not different every time)
Partial Subject line (if the subject line contains invoice numbers that change, you can select a portion of the subject line and add it the "Contains Words" field...more below)

Now select the meatball menu and click Create Filter. 
In the filter screen add the data you want the filter to always search by and then click Create Filter. The image below shows the above example.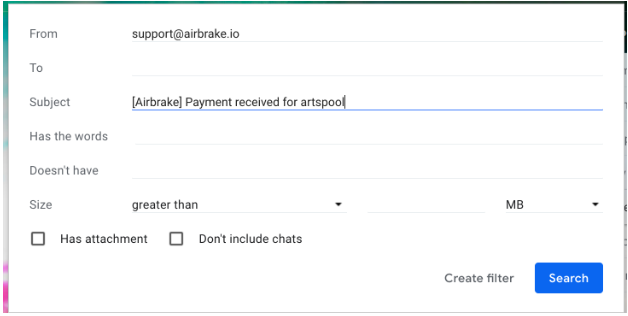 Note: As mentioned in Step 2, if you are selecting a portion of the subject line, you would enter is the Has the words section. 
The next screen will give you a lot of setting options. The only one required in Forward it to, however there are a few others that might be useful (Skip Inbox and Mark as Read). This will help, by archiving the email so that you don't have to bother with it. Once you have selected the options click Create Filter.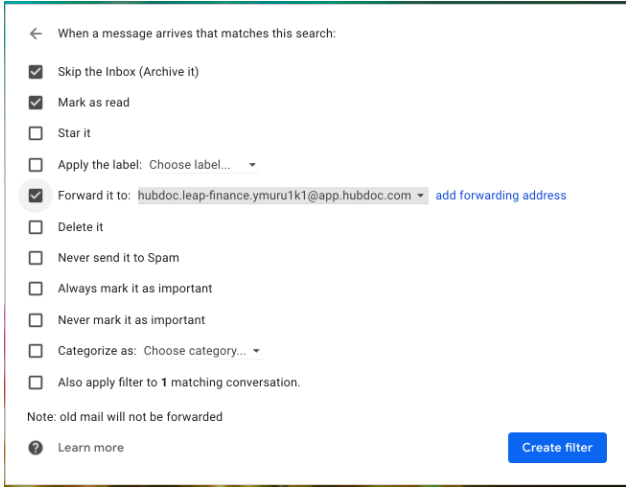 Repeat these steps for each vendor.
Once all filters are created, it is a good idea to keep an eye out for new emails and check with ArtsPool to see if they were forwarded. The Financial Operations Lead, also has a checklist of forwarded emails and if something is missing they will also reach out to you.
Continue on the next article for instructions on destination configuration.
---
---