Dashboard: Understanding Payroll
The Payroll box on the Dashboard allows you, as a company payroll admin, to access payroll-related data.

In the Payroll box, you have access to the following three items: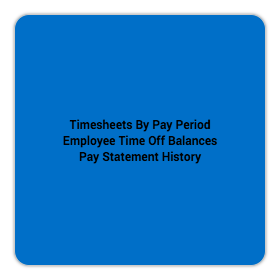 Timesheets By Pay Period: you can access timesheets for all of your employees from here.
Employee Time Off Balances: you can review the time-off balances (vacation, sick time, etc.) from here.
Pay Statement History: you can access the pay statements for all of the employees (active and/or terminated) from here.
---
---