Compliance Toolkit basics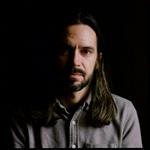 Updated by Max Dana
What is the Compliance Toolkit?
The ArtsPool Compliance Toolkit is a free web-based tool to help nonprofit companies make sense of the red tape jungle of regulatory compliance. The Toolkit's rule-based system compares an organization's corporate and fiscal year data with key regulatory requirements and generates a customized task list, so compliance tasks can be addressed without spending hours wading through confusing information. The Toolkit allows organizations to get answers to such questions as whether they need an audit or an accountant's review, what regulations they must comply with if they have employees, which policies are required for government funders, and many others.
The Toolkit also helps organizations track such tasks as quarterly payroll filings, annual tax filings, the creation and maintenance of organizational policies, Grants Gateway prequalification, and DataArts profiles. Please note that while we strive to ensure that ArtsPool's Compliance Toolkit is as useful as possible, the system does not guarantee complete compliance information. Please refer to our Terms and Conditions for more information.
The system is primarily designed for nonprofit arts organizations operating in New York State, though it will generate a very basic task list of compliance essentials for organizations operating outside of New York and organizations that are not 501(c)(3) nonprofits.
The Toolkit is a dynamic resource that can be modified to respond to regulatory changes and may be eventually expanded to include regulatory requirements from additional states, funders, unions, etc. It is reviewed on an ongoing basis by members of the ArtsPool team and periodically by additional legal and accounting experts. We also rely on members and organizations to help us keep the Toolkit up-to-date by reporting anything that is missing or confusing to lifeguard@artspool.co.
Getting Started
Signing up
The Compliance Toolkit is freely available to anyone who wants to use it to manage their organization's compliance. To get started, sign up for an account and enter your organization's name and EIN after you log in for the first time.
Account settings
To review your account settings, select your name in the upper right hand corner and then select My Settings. From here you can update your name, title, change your password, update your photo and update your notification settings.
Joining or creating an organization
To create an organization or to join an organization that already exists in the database, just select Join Organization from the top right menu under your name, then enter the name and Employer Identification Number (EIN) in the boxes provided.  If the organization does not exist in the database, an organization record will be created and you will be added as the organization administrator. If the organization already exists, an email will be sent to the organization administrator asking them to add you to the team. You will receive an email when your request to join is accepted by the administrator.
The Toolkit uses ProPublica's Nonprofit Explorer database behind the scenes to automatically populate your organization's record with publicly available information from IRS filings upon creation. However, the Nonprofit Explorer database does not always include your most recent filing, so be sure to review your organization's information for accuracy before proceeding to the compliance profile generator.
TIP: The data you enter in the Compliance Toolkit is for your reference only, and not sent to any agencies. List your number of employees as per head (NOT full-time equivalents), and round estimated information up for most conservative estimate of your task list.
Managing compliance tasks
Compliance Profiles
Once you have been accepted as a team member, you can create a Compliance Profile for an organization. A Compliance Profile is simply a list of compliance tasks for a particular fiscal year based on key fiscal year and organizational data.
Creating a new Compliance Profile
To create a Compliance Profile for a particular fiscal year, select the Generator link on the left sidebar or on the bottom of the organization's profile page to access the wizard for creating a new compliance profile for a particular fiscal year. The resulting compliance profile is a list of tasks for a particular year that you use to assign work to team members, assign due dates, learn more about the particular task, or communicate with other team members via comments.
All organization users will be notified of comments on compliance tasks.
Working with tasks
Click into any task on a Compliance Profile to view more about how to complete the task, set a deadline, assign it, or make a comment. Every user associated with your organization will receive a notification when someone makes a comment on the task.
As you complete tasks, your compliance score for that fiscal year will go up (see below for details).
Tasks often include links to outside resources which are helpful in learning more about the specific task. If you encounter a broken link, please report it to lifeguard@artspool.co.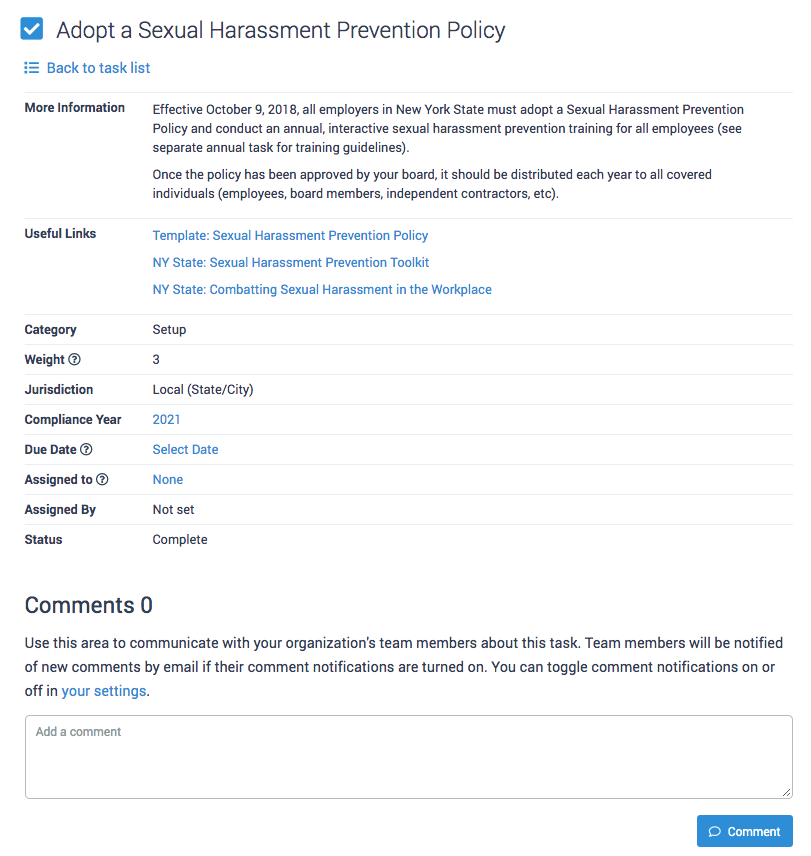 Previous year Compliance Profiles
To view previously generated compliance profiles for other fiscal years, select Task Lists from the left sidebar and select the year you would like to view, or visit the organization profile page.
Closing and opening Compliance Profiles
In a perfect world we would complete every task, but in reality it may not be feasible (e.g. your board was not able to draft, review, and approve all of the required policies before the end of the fiscal year). This is completely normal. That said, sometimes you want to move on to the next fiscal year's task list and have a way to "lock" the previous year so that you have a snapshot of what was completed at the end of the year.
You can close the profile for a particular fiscal year by clicking the arrow next to Open at the top of the profile and selecting Close profile. This effectively locks the compliance profile and prevents any changes. To reopen the profile for editing, just click the arrow next to Closed at the top of the profile and click Open profile.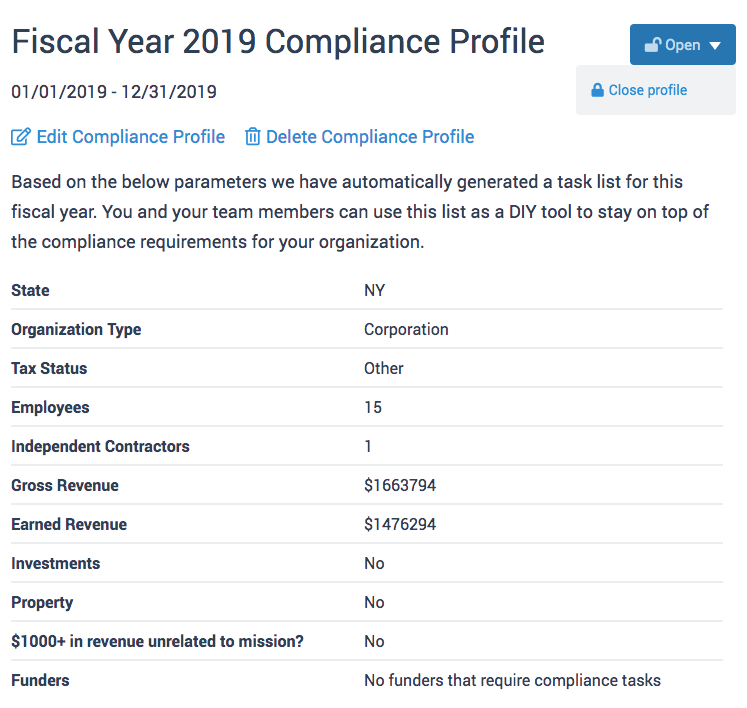 Compliance scores
As you complete tasks on a particular year's compliance profile, the compliance score for that year will increase and will be reflected in the chart at the bottom of the compliance profile screen. The compliance score is based on a very simple weighting rubric designed to help organizations have a better understanding of what tasks are the most urgent. Tasks are weighted with the following scale:
3 - Critical
2 - Important
1 - Moderate
Since critical tasks are weighted more heavily (e.g. completing your annual IRS 990), these tasks will have a greater effect on your compliance score when completed. You can see the weight of any task by clicking on it and viewing the task details. The compliance score section of the compliance profile also provides an Average Score chart that shows the completion rates across all organizations and all fiscal years in the Toolkit's database.