Requesting work from ArtsPool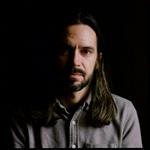 Updated by Max Dana
The fastest way to request work from ArtsPool is to use the forms in the ArtsPool management portal, a.k.a, the ArtsPool app.
Accessing the ArtsPool app
To access the ArtsPool app:
Visit ​app.artspool.co​ and log in with your email address and the password that you set when you received the initial confirmation instructions email (subject line: Welcome to ArtsPool: Getting Started). For faster access, bookmark this link or set your browser to automatically open it in a tab when you launch your browser.

If you receive an error that you have not confirmed your account and need to the confirmation instructions sent to you again, you can use the

Confirmation Instructions Form

.

If you forgot your password, you can have have a password reset email sent to you with the Password Reset Form.
For both the Confirmation Instructions and Password Reset forms, be sure to use the email associated with your account. If you are unsure which email is associated with your account, send an email to lifeguard@artspool.co for assistance. If you don't have an account, please have your manager contact your ArtsPool team to have one set up for you.
Work request forms: three flavors (for now)
Forms in the ArtsPool app will automatically route your request to the right person at ArtsPool, increasing efficiency and speed. Currently, the following three forms are available for submitting work requests:
New grant form:

 Used when you are applying for a grant and you're ready to request the related financial materials from ArtsPool.

New hire form:

Used to tell ArtsPool to begin paperwork for a new employee you are hiring. If you are hiring an independent contractor, use the general work request form.

General work request form:

Used to submit work requests that are not a new grant application or a new employee.
Each of these three forms will:
Create a new task in the ArtsPool app, and;

Assign it to the right person based on the category of the request.
In the future we plan to build more forms for common request types.
Submitting tasks
If you are hiring a new employee or applying for a grant, follow the instructions for the new hire form or new grant form. For all other requests, use the general work request form and select the appropriate category to automatically route your task to the appropriate team member. This form can be found by logging into the ArtsPool app, selecting the blue New Task button in the upper right part of your screen, and then selecting Other work.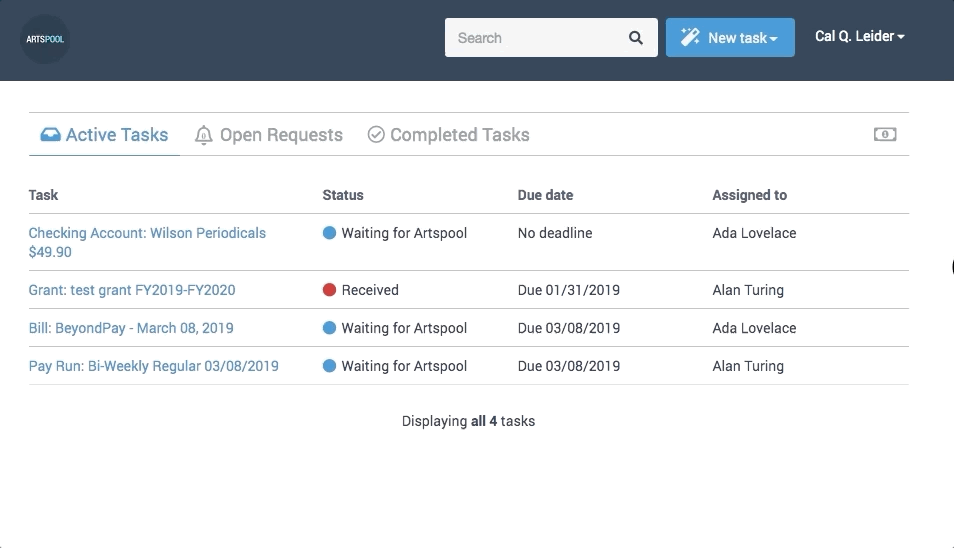 Before you start
If you have already opened a task on a topic, adding comments or documents there rather than on a new task helps us stay organized and deliver the work to you quickly. If you aren't sure, check your task list or try searching using the search bar at the top of the screen.
Form fields
The form will ask you to fill out a few fields to help us get the work done for you quickly and accurately.
Category:

Categories are used to automatically route your task to the right person to work on it, but don't worry about getting it perfect. Whoever receives it will make sure it gets on the right plate as soon as possible. See the right sidebar of the form for some examples of tasks in each category.

Short description:

Good descriptions help us find things and stay organized. Many members have the same vendors and many vendors bill monthly, so a description like

Bill submission: Acme Inc. - April 2018

is MUCH better than

Acme bill

or (gasp!)

Pay this

. For examples of good task descriptions, see our

Task description cheat sheet

.

Details on what needs to be done:

Provide a detailed description of what you need us to do. For anything related to a financial transaction, be sure to include the appropriate account coding, program tracking, and activity tracking (if applicable), along with any contextual information that we need in order to understand the transaction or request. Incomplete information slows us down.

When does it need to be completed? Indicate the target date that you would like the request completed by. Be realistic when setting these deadlines. Your ArtsPool team also serves other members in the cooperative, so a lead time of 48 hours or longer is appreciated. If a request is urgent, include the word "URGENT:" at the beginning of the Short description

field. But

beware of overusing that word

.
Documents
If there are documents related to your work request, add them here. To add a document, drag and drop one or more files from your computer, paste files from your clipboard, or click the browse link to open the file picker. There is also a webcam option, which is handy if you are creating a task from your phone and want to take a picture of a document with your phone's camera while creating a task.
Pro tip: Hold down Command (Mac) or Ctrl (PC) to select multiple documents from your operating system's file picker.
Submitting the form
Once you have filled out the form, submit it by selecting the blue Submit button. If your submission is successful, you'll see a blue bar appear at the top of screen letting you know that the form was submitted and assigned to the appropriate team member based on your category selection. If you need to change or clarify any information, just leave a comment on the task.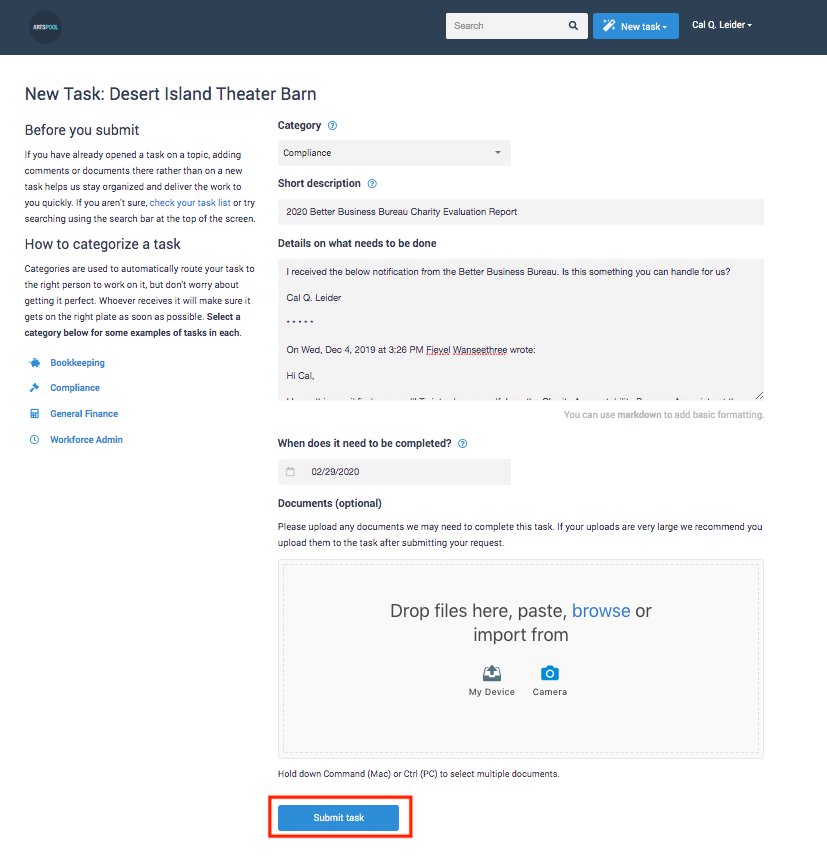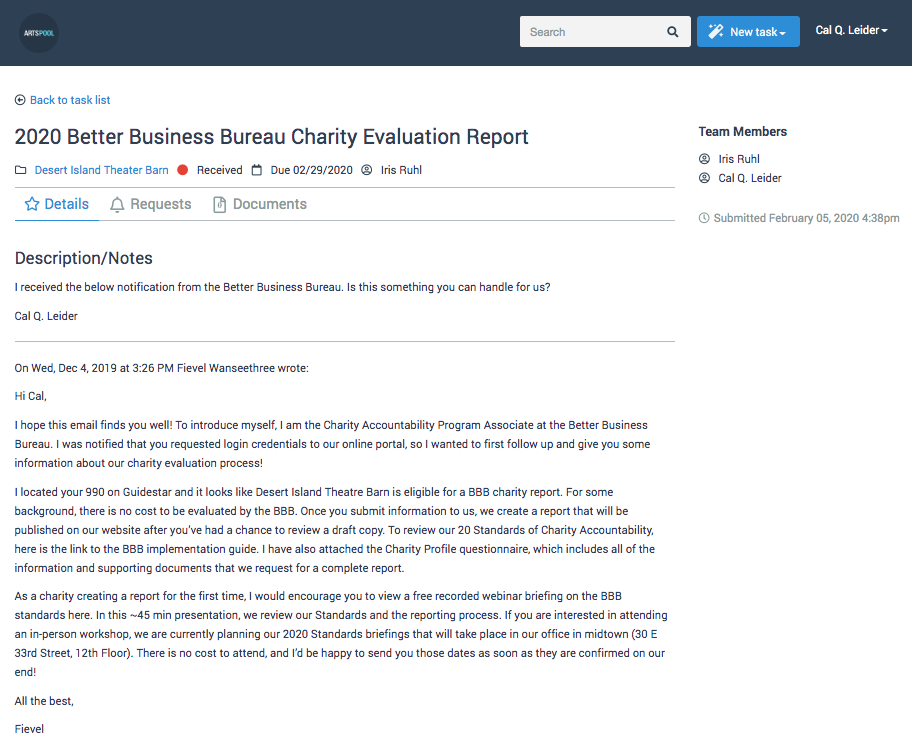 Submitting tasks by email
You can also submit tasks via email by sending/forwarding an email and any supporting documentation to your company's ArtsPool app address. Your app address is a special email address in the format [member-handle]@members.artspool.co that will automatically convert your email into an app task. This email address is included in the confirmation instructions email that you received when your app account was created (subject: Welcome to ArtsPool: Getting Started), but it is also the from: address on all task-related notifications that you will receive from the app. You can also find this address on the left sidebar of your organization's information page in the ArtsPool app.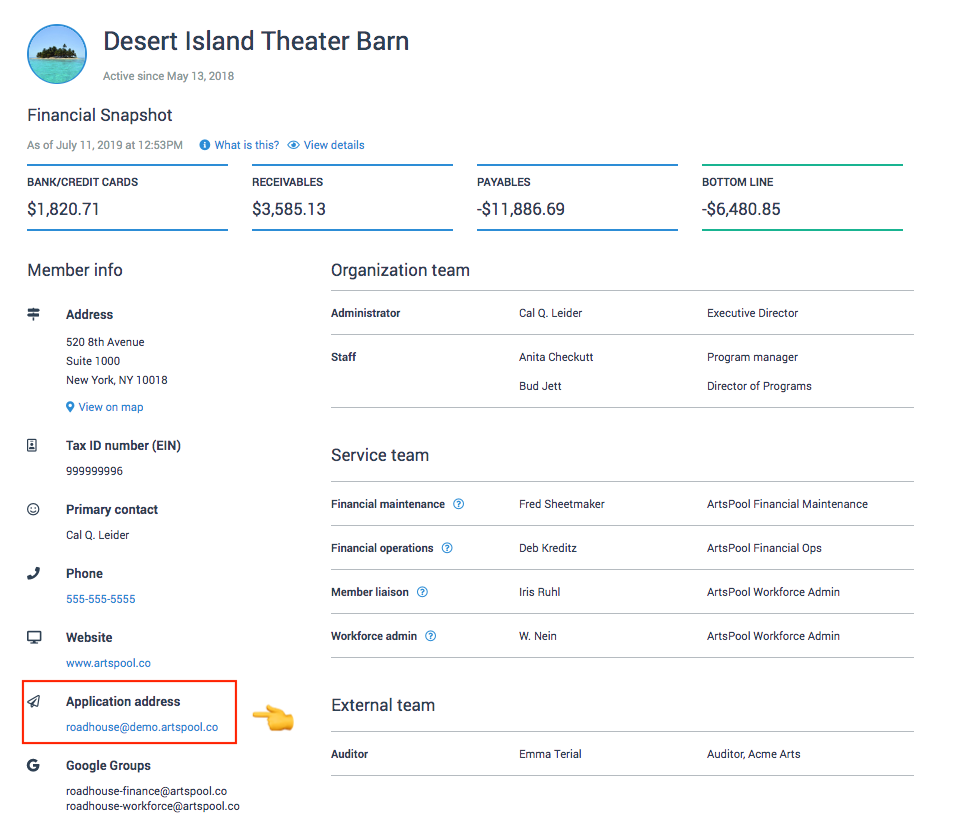 Please do NOT
cc: the app
on messages as it will create a new task for every response. Instead, forward the work request 
to
ArtsPool
 when it's ready for us 
to
 work on and we will add the relevant team members 
to
 the task.
Note: tasks submitted via email need to be routed manually by your Financial Operations Lead, so if you need a fast response we recommend using the web form mentioned above.
Adding more information to an open task
A work request that is split into many separate but related items can be very frustrating to work on because the information gets fragmented. If you need to tell us something new about an open task, adding comments or documents on the open task rather than submitting a new task helps us stay organized and deliver the work to you quickly. If you aren't sure whether you have a task open on a topic, check the Active tab of your task list or try searching using the search bar at the top of the screen.