Submitting your timesheets in BeyondPay
Submitting your timesheets in BeyondPay
Updated by Waqar Ahsan
ArtsPool handles time entry slightly differently depending on the size and complexity of your employer's hourly or fee-based workforce. In this article, we will discuss time entry in the BeyondPay system and BeyondPay's cellphone app, HCMtoGo.
Submitting timesheets in BeyondPay
To enter and submit your own time into BeyondPay, follow the instructions below:
Go to your BeyondPay Homescreen, and select My Current Timesheet from the My Actions bubble.

Once you are taken to your timesheet, it will look like one of the two versions below:

Version A:

Version B:

Before entering any time, first make sure that your are looking at the correct pay period (purple box).
To record your worked hours, you can use the CLOCK IN/OUT buttons (blue box, Version A) at the start and end of your shifts, or you can enter your Start/End times to the From/To columns (red box, Version A), or enter your total hours for each day (red box, Version B).
If you work more than one shift on a single day, you can record the additional shifts by adding more rows for that day using the + icon (yellow box, version A), then repeat step 4.
After entering your hours, make sure to always hit the SAVE button (green box).
At the end of the pay period, review and confirm your hours, then submit it to your supervisor for approval using the SUBMIT FOR APPROVAL button (green box).
Your timesheet should be submitted as soon as possible following your last day of work in a given pay period, but in any event no later than 5:00PM on the day before payroll is processed (i.e. submit timesheets by 5:00PM on Monday).
Submitting time in mobile app (HCMtoGo)
Alternatively, you can download the HCMtoGo app on your phone (available for both iOS and Android).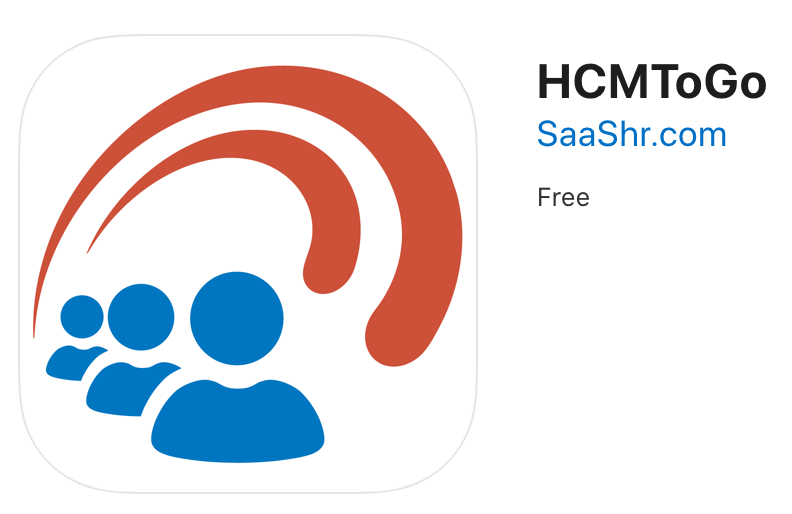 You may need to company short name to login on the app. Please reach out to your Workforce Administration Lead for this information.
Once you login, simply click on the CLOCK IN and CLOCK OUT button on the homescreen to record your time.