Dashboard: Understanding My Actions
The My Actions box on the Dashboard allows you to do a few things related to your account and timesheet.

In the My Action box, you have access to the following three items:
If your organization does not track time in BeyondPay, then only Change Password will be available.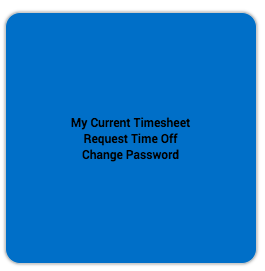 My Current Timesheet: by selecting this option, you can access your timesheet for the current pay period. On your timesheet, you have the ability to enter your hours or punch in/out (depending on your organization). Notes can also be added to a shift if something needs to be communicated to your supervisor.
Request Time Off: this option will take you the the page where your requests can be made. You will have the ability to select the Time Off type, the dates for your request, and you will be able to leave a comment for your approving supervisor.
Change Password: this option does exactly what it says. If you ever need to change your password, go here.
---
---